posted by

alexfandra
at 08:38am on 03/06/2009 under
alaska
,
birds
Back to the Alaska trip....
I tried to find the non-touristy places wherever we visited. There was a quiet woodsy trail by a stream in Ketchikan: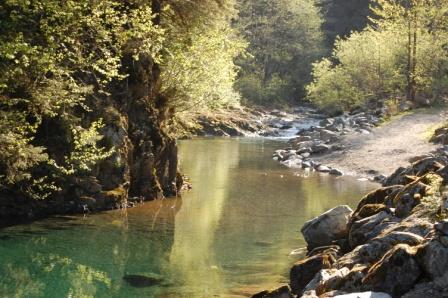 The touristy stuff was unavoidable, as were the tourists, since there were often four ships in port at the same time.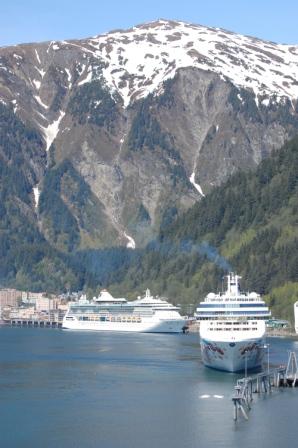 I overheard a passenger on our ship at lunchtime complaining to a staff person about all the ships arriving at the same time, dumping thousands of tourists on the town, "so you can't move through the crowds in the shops, and you get disgusted and leave." Well, I thought, you could always go for a stroll in a park.
The Ignorant Tourists appeared a few times in my presence. One of them called the ravens in Juneau "those big crows." A tourist in Ketchikan ("the salmon capital of the world") asked his girlfriend to pose for a photo "by that big shark sculpture" (yes, it was a salmon, very accurately sculpted and painted). But overall it wasn't too horrible. Whenever I was out on the promenade deck with my bins, people often asked if I'd seen whales, and when I said no, but I'd seen lots of interesting birds, several of them stopped to chat about what birds were out there and seemed genuinely interested.
Here is one of those "big crows" in Juneau -- it was odd that we saw only a few ravens in Ketchikan and Skagway, but there were hundreds in Juneau: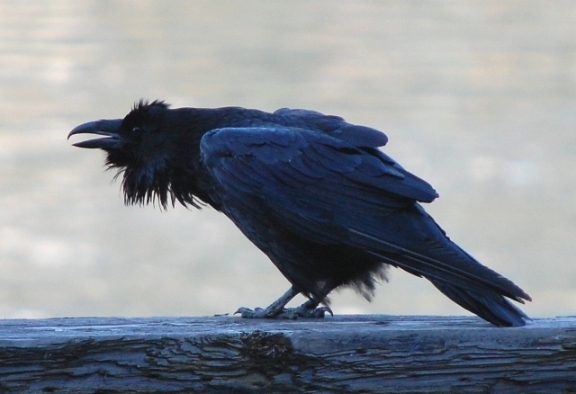 Every time I turned around, I saw (or heard) ravens, with flocks in trees, or strolling through the city parks, or perching on buildings. They were amazing. And very vocal!