posted by

alexfandra
at 09:03am on 01/07/2009 under
birds
Okay, you all know I love birds. However, my affection is being sorely tested of late, as I have a bird war going on in my backyard.
There are two Spotted Towhees battling it out with two Steller's Jays. If you go
to this bird ID site
and scroll down to the "Songs and calls" section, you'll be able to hear the raucous cacophony produced by the jay, and
on this page
if you listen to the whole thing, you'll hear the annoying screech of the Towhee. Now imagine two of each going full bore at each other ALL DAY LONG and ALL AFTERNOON and ALL EVENING.
Mind you, the Towhee is a pretty bird. Here's a photo I took yesterday when I was trying to relax on my patio: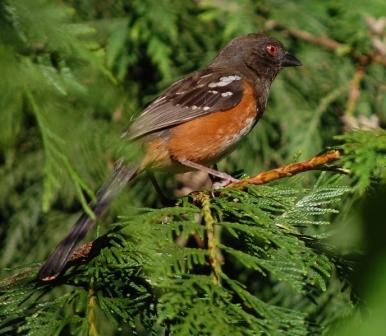 Of the two, I'd much rather have them about than the jays, who are encouraged by my neighbors, who like to feed them (and the squirrels) peanuts. Grrr. Arrrrgh.
And here's the Steller's Jay gunning for Towhee: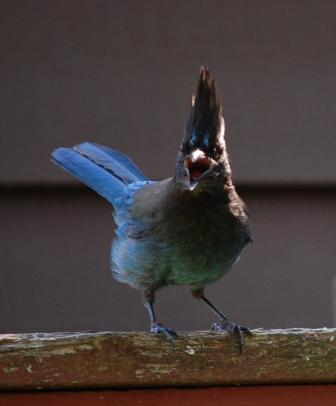 The Cat is useless. He sits out on the patio watching the birds with no sign of interest whatsoever. I actually saw both a towhee and a jay fly down to the ground to screech at each other a mere ten feet from The Cat, who sat there looking at the birds for a few seconds, and then
turned and casually strolled away
. Honestly.
The Hounds are no better. They seem puzzled by all the racket, and Bodie barked once at a towhee, but this did not impress the bird much. Mostly the Hounds seem to want to come right back indoors.
And alas, despite the lovely sunny weather, so do I.
There are no comments on this entry.