posted by

alexfandra
at 09:13am on 11/06/2009 under
birds
Sometimes the Birding Gods smile upon the beginning birder. I was visiting relatives on the other side of the state, where I've only birded once before. I decided to check out a few spots on the Great Washington State Birding Trail map for the area, and drove some 20 miles one fine morning at 6:00am to a park near Wallula.
I thought, "What birds might I see here that aren't in Seattle?" Well, the map had a couple dozen birds depicted on it, including a prominent Bullock's Oriole. Supposedly they can be found in the Puget Sound region, but I've never seen one. "It would be nice to see one of those," I said to myself, since no one else was there. So I looked it up in my field guide and familiarized myself with its markings.
And then I got out of the car, walked about 20 feet, and saw a flash of orange fly into a copse. When I clapped my bins on it, lo and behold, I was looking at a Bullock's Oriole. Finest kind.
A bit later I drove to the McNary National Wildlife Refuge, an excellent place, and I thought, "I wonder if they have Yellow-headed Blackbirds here." Presumably they turn up from time to time in the Seattle area, but again, I'd not seen one. I got out of the car, walked about 100 feet this time, and a bird flew up to perch on a fence. It looked like this: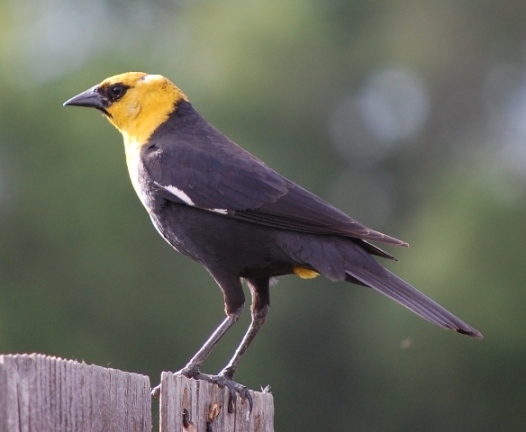 I decided it was most likely the bird in question.
And I also decided I'd pushed my beginning birder's luck enough, and should probably not ask for a White-faced Ibis, though you never know. Perhaps I should have.
The only other birds I really wanted to see were the pelicans, and they turned up everywhere I went, in droves.
Maybe next time I'm over there, I'll ask for an avocet or two.